Wedding Photographers-Christchurch-New Zealand
 Wedding Photographers based in Christchurch for photography New Zealand wide; The mission of Pip and Oz Photography is to capture the joy and raw emotion of our client's wedding day.
We strive to demonstrate the beauty of each couple's relationship by capturing the purest moments and documenting their special day.
Pip and Oz Wedding Photography, Wedding Photographers Christchurch and Canterbury;  Being married and also having gone through the process of wedding planning. We have a clear picture of wedding day celebrations and the whole package that comes with the day. Knowing the marriage process ourselves also means we have a rough idea of what you are going through with your wedding plans.
Photojournalistic Photographers with a style that's
Playful – Emotive – Timeless
Photographing Weddings is our passion. We love being around happy people. Let's face it. Who doesn't?
We will go above and beyond our call of duty, before, during and after your wedding. We aim to please and give you one of the most memorable times of your life.
Pip and Oz: How we work
From the time you make contact. Pip and Oz Wedding Photographers Christchurch, will offer suggestions, tips, hints, and pointers. These ideas will help guide you in your wedding day photography expectations and consequently answer most of your questions.
The timing for the hair and makeup and time allocations for family and bridal party photos are just a couple of suggestions we give. The tips do come in handy when you sit down to plan your wedding run sheet.
It's your special day, and you customize it how you see fit. Anything you need photography related, we are here to help in any way we can. Our wish is for your wedding day to run as smooth as butter.
There are some extra duties we will take on for you too.
These will include reminding you on the next part of the celebrations, entertain and furthermore help calm the bride's nerves. 
Our primary job on the day though is to capture beautiful wedding photographs you, your families and friends will cherish for generations to come.
At Pip and Oz Wedding Photographers, we have a fun-loving outlook on life which reflects itself in your resulting wedding photos.



No telling you to say  "SAY CHEESE!!!" or telling you to smile.

On the day of your wedding, we will guide you. You will get directions on where, how to stand, give your hands something to do.

We will crack silly jokes to help you relax, smile and laugh. All this results in your fantastic wedding photographs having that natural look and feel. 
Before booking Pip and Oz Photography
Your wedding photography preparation starts the moment you meet with Pip and Oz.
Weddings are such a personal occasion. We would like you to get to know us and vice versa before you decide to book us as your wedding photographers. Your wedding photography is a massive part of your big day, and we believe it's incredibly crucial that you get along with your wedding photographers.
Making sure we are the perfect fit for you is crucial too, so catching up would be great. Let's talk more about your wedding planning over a cup of coffee, a glass of wine or chai latte depending on what drives your motor. 
Wedding Venue Visit
In further preparing for your day. Be it in Christchurch or outside, time is put aside to visit your wedding venue and become accustomed to the surroundings of your wedding venue. The visit is a must if it's our first time photographing a wedding at that venue. Walking blindly into a wedding venue is not part of our style.
We value your wedding day to the point that we make it a must to attend your wedding rehearsal, therefore, means we prepare better for the wedding day. 
Advantage of having two photographers on your wedding day
On the wedding day, you will have two photographers to capture and document your wedding; hence the different views and angles will be covered.
One person can only cove so much, add another and more of your day is captured.
An early start on the wedding day
We love starting the day early with the bride and the bridesmaids getting ready for a few reasons.
Having us present from the start of preparations helps you all to relax and get used to having a camera in your face (not literally) well before the main parts of the day get underway.
Also starting photographing when the bride is getting ready gives us a chance to get to know who is who in your wedding party and to connect with them too. By the time you get to the start of the marriage ceremony, we pretty much a part of the gang.
Bride Prep
The wedding day is all about the bride.
Wedding photography does seem to favor this statement too as seen by the amount of preparation that the bride has to undergo. That is so especially days leading to and on the day of the wedding, and for this reason, the girls will always have one of us with them to capture those candid moments.
While the girls are getting ready is an excellent opportunity to also photograph the girls in their robes or whatever outfit the bride would have gifted them to wear.
Depending on the bride's taste and style, we can also have an impromptu mini bridal boudoir shoot if she so wishes.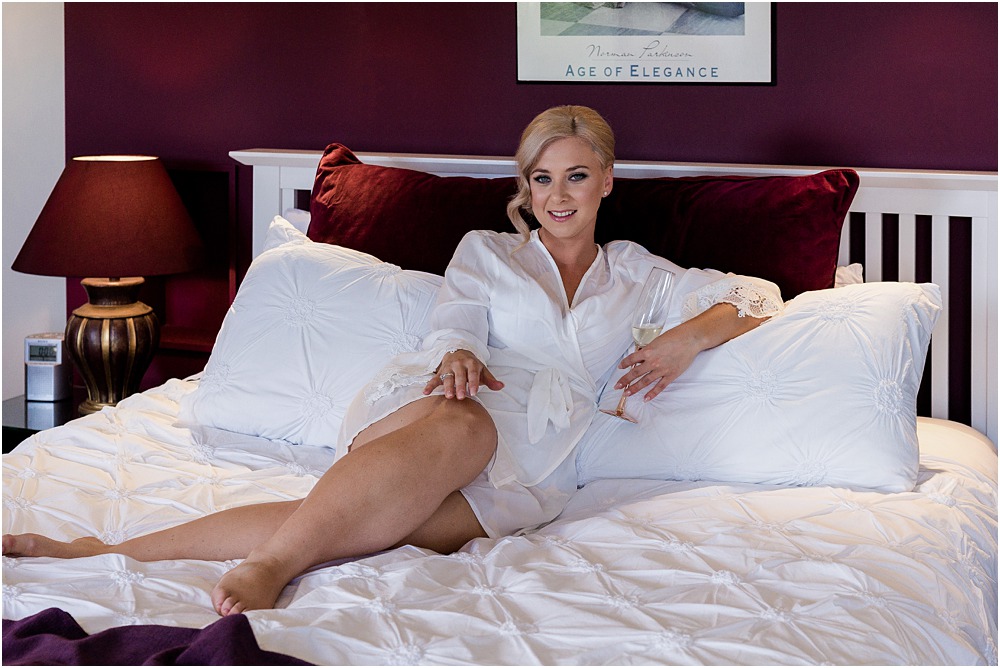 The girls take longer than the boys to get ready and because everyone so engrossed in the preparations, we help with the time keeping to make sure everything stays on track.
We like to visit the groom and groomsmen getting ready too if your wedding photography collection includes a photo album(s).
Groom prep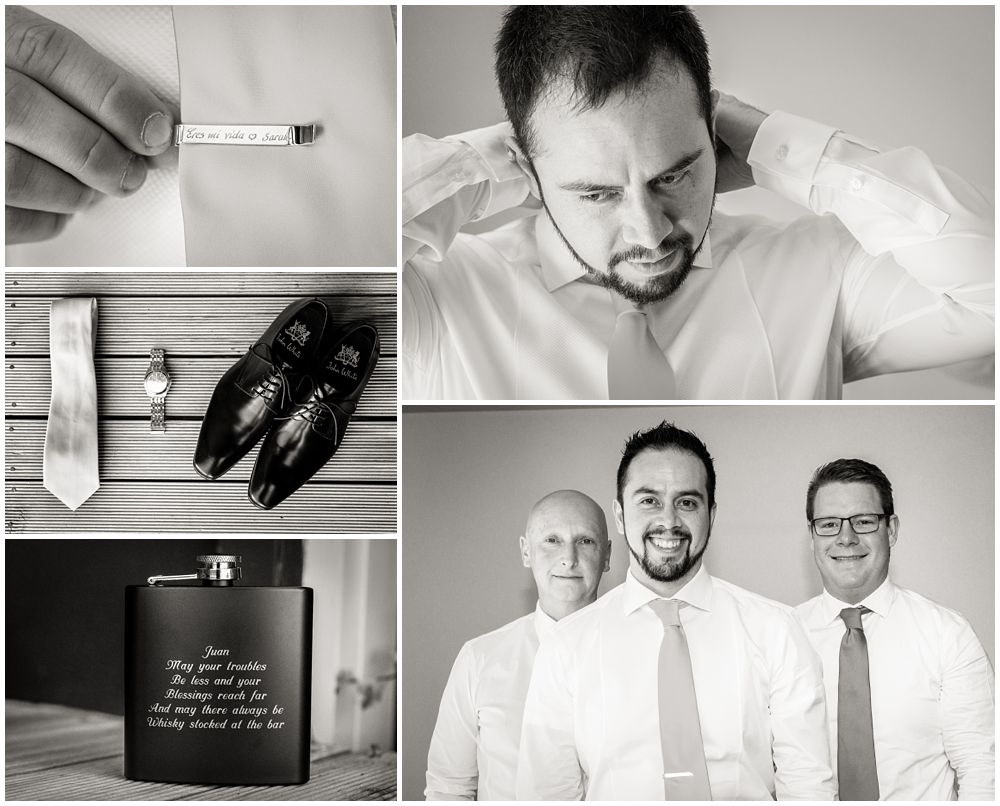 Including the groom and the groomsmen in the getting ready photos helps to balance the wedding photo book rather than having the bride and bridesmaids dominating the album.
Just like we do with the girls, photographing boys getting ready gives them a chance to get used to our cameras being pointed at them and furthermore helps break the ice of awkwardness.
Ceremony
At the ceremony, we split up. Hence you will get a range of different angles and views. You get to see the service through your guest's eyes and much more. We like to be invisible for this part of the wedding while we blend into the background.
Oz will be behind the camera for the family group photos, and to make sure no-one gets omitted. On the other hand, Pip will be helping your MC (or another person you have to help us) gather your guests to ensure the group photos run smoothly and consequently save some much needed time.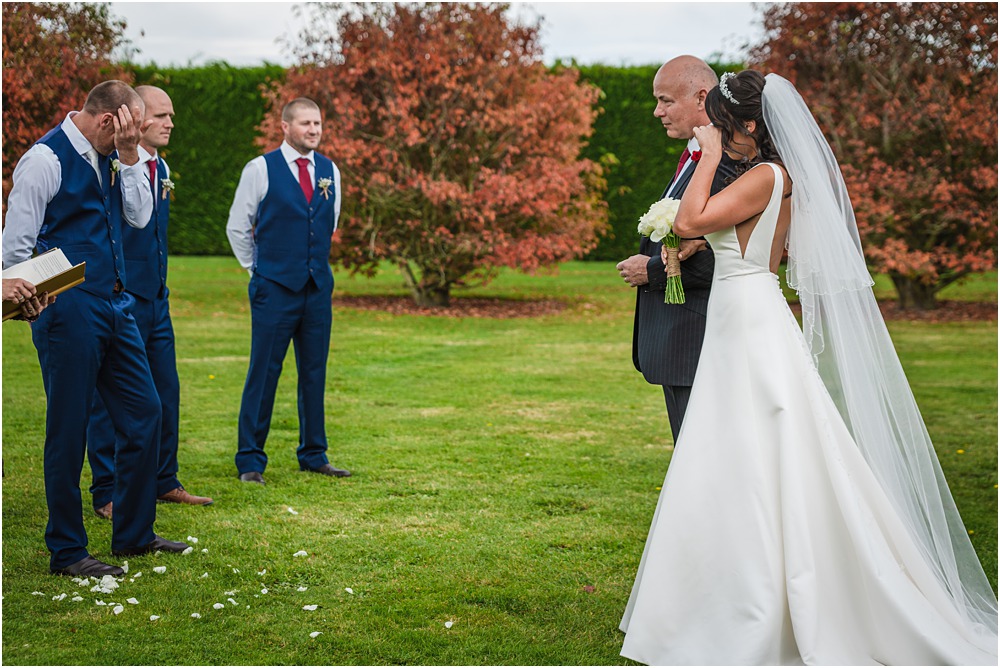 Collecting guest for family group photos can be one of the most challenging and time-consuming processes for wedding photographers. But we love capturing the family photos. 
We feel that these photographs will be some of the most cherished from the day.
Since you will have most of your extended family members in these pictures, thus the photos become part of the family history which can get passed to the next generations to come. 
 Bridal Photography
The bridal party photographs need to be as enjoyable as possible. So we love to include elements of fun, playfulness, creativity while blending them in with your personalities which we like to bring out in your photos.
We'll go along with anything you suggest as long as it's within reason and if it is safe for your bridal party and us. Some photography shots may not be worth the risk to take to capture them.
If you also have hobbies that you would love to incorporate into your wedding photography, we can make
that happen too. Be it the Bride or Groom; you do not need to have modeling experience to take beautiful wedding photographs. Leave all that to us to worry about and enjoy the moment and the day.
 Wedding Reception
Pip and Oz  Wedding Photographers from Christchurch don't believe in doing wedding photography by halves, so we will always stick around for your reception too. We like to stay for the essential parts, i.e., the speeches, cutting the cake, first dance and as Oz would say we instead leave before the guests start dancing on tables and requesting to take photos of us.

Finally, we depart, leaving you and your guests to dance the night away. You can now pull your smartphones out and capture the impressive dance moves. 
By the end of the day, if we don't walk out that door feeling like we're nearly another couple who are part of the family then, we haven't done our job to the best of our ability. 
Your wedding day is a massive occasion for you, and we make it the same for us, and we aim to leave you with smiles and tears of happiness.
Wedding Album
Once we get home from a wedding, unlike everyone else at the wedding, we get to enjoy and re-live the wedding all over again while working on your photographs. We will go through and pick the best of the best which we touch up before handing them over to you to enjoy and cherish. 

With wedding photography collections that include photo-books in them, we will do an initial design of the album for you, i.e., the way that we saw the day. The album will be uploaded online for you to go through and document all the changes you see fit to happen.
Once you have gone through the online album proof that we send and have noted down the changes you would like made; we will then invite you to our place.
We will sit down with you and go through the changes, again probably over a cup of coffee and maybe even some homemade baking and even some home-crafted beer from my dad's homebrew collection. 
Pip will take your baking requests and believe me when I say; she does not disappoint on the delivery either. 
This meeting can take up to 2 hours give or take depending on the number of changes. 
If we are the right photographers for your wedding photography, or you would like to meet us first before making the decision, send us a message.
 Want to know more about Pip and Oz Wedding Photographers?
Do head over to our Contact Us page and drop us a message and details to get the ball rolling. It would be such an honour to be your wedding photographers for your special day.
Pip and Oz Wedding Photographers Christchurch at your service 🙂
Talk to you soon.
Pip and Oz
Reviews – Testimonials from Brides and Grooms


 "We couldn't have chosen better when it came to our photographers for our wedding. Pip and Oz went above and beyond all of our expectations and captured all the special moments of our beautiful day too.

They made us feel relaxed, comfortable and laughed with us along the way. Any suggestions for photos were happily accepted, and furthermore, they both worked hard to make the whole day flow perfectly. Their passion for their job also showed in the effort and excitement they also put into our day.
Pip and Oz you were such a fantastic team to work with. You worked so perfectly together, and we cannot thank you enough for what you put into our day.
We are very excited to see the rest of the photos from our day and to work with you in the future too."
Abby and Mark French 🙂
(Bride & Groom)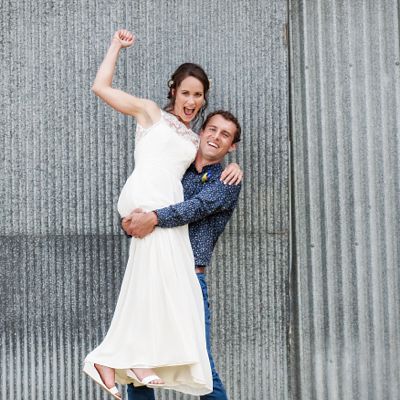 "Luke and I had so much fun working with Pip and Oz on our wedding day! We also felt so comfortable and relaxed in front of the camera. They worked rather hard to get the perfect shot every time. Pip and Oz also got on so well with all our guests.

They were very professional and captured our day beautifully – all the smiles, love and laughter.
We were so happy with all of our photos. All our family and friends have made so many comments about how beautiful the photos are too. Over time we look at the pictures, and we can relive the memories of our special day.
You guys are truly brilliant, and thank you for everything!"
Katie and Luke
(Bride & Groom) 
"Pip and Oz are just fantastic!!! It was so awesome have the two also to capture every moment, and we had such a beautiful day. Furthermore, they captured every moment.  Our photos were ready so quick, and they went above and beyond to make them look awesome too. Couldn't have asked for better photographers who we now also call friends.
Pip and Oz made everyone feel so comfortable, and also had our guests saying how warm and friendly they were.

The photos and albums they produced were just magical, and I am so happy we have those memories to keep forever. Give them a call because once you have met with them, you won't want to go with anyone else. "
Sarah Zepeda
(Bride)

Opening Hours
Monday:       0800-1600
Tuesday:       0800-1600
Wednesday: 0800-1600
Thursday:     0800-1600
Friday:          0800-1600
Saturday:      0800-1600
Sunday:         0800-1600
Contact
Phone: 027 280 6258
Email: info@pipandoz.co.nz
Skype ID: Pip and Oz Photography