Lacebark Wedding Venue – Ohoka -North Canterbury
Lacebark Wedding Venue: Pip and I recently had the privilege of visiting North Canterbury's newest Wedding and functions Venue, Lacebark.
Owned and run by Marion and Lindsay Pulley, Lacebark Wedding Venue is nestled in Ohoka, west of Kaiapoi and sits on a country lifestyle 10-acre section.
Lacebark is astonishingly beautiful and is in a class of its own when it comes to wedding venues.
The venue was purpose-built and developed, with magnificent gardens and rooms to cater for functions of various sorts.
Marion was kind enough and generous with her time and took us on a guided tour of the property.
Marion and Lindsay got the venue started after host a few weddings for friends and family. With the help of their daughter Amber who designed the reception venue, they remodelled an old barn into a stunning function venue.
As beautiful as Lacebark already looks, Marion and Lindsay have a lot more developments for the venue in the pipeline.
They are both avid gardeners and between them and their love for landscaping look after and maintain the immaculate gardens.
Lacebark Wedding Venue preview
Ceremony
The number one option for the wedding ceremony is the lawn in front of the gazebo. Lacebark gazebo was purchased from another wedding venue Elizabeth House which was demolished due to earthquake damage.
There are other options around the gardens, and these will depend on the number of guests to are hoping to have to attend your wedding and also whether they are seated or standing.
In the event of bad weather or rain. There is a sheltered area outside the reception hall that can be a plan B option.
Reception
The barn styled reception area has a spacious hall that accommodates 120 guests.
The barn is made from a mixture of new and classic rustic materials, giving it a modern classic look.
Attached the hall is the dance hall which is sound proof even to the guests in the main lobby.
Wedding music is up to the wedding couples; you can go, DJ or Band, the choice is yours.
Catering
Also attached to the reception hall is a commercial grade and fully functional kitchen for your catering company to use.
And even better, you can bring in a catering company of your choice.
 Bed & Breakfast
Also available to wedding couples is the luxurious Bed and Breakfast option.
The B & B has a large bedroom with a super king-size bed, a spacious living area and a separate bedroom with two single beds.
This setup is also ideal for the bride and bridesmaids to stay on location the night before the wedding and use the B & B to get ready.
Photography
There are ample choices for photography on the section, ranging from paddocks to lush green gardens. Amongst the gardens lies arches, gates and benches to name a few of the props, you will find strategically placed to use for wedding photography.
All I can say is when it comes to wedding photos, at Lacebark you get spoilt for choices.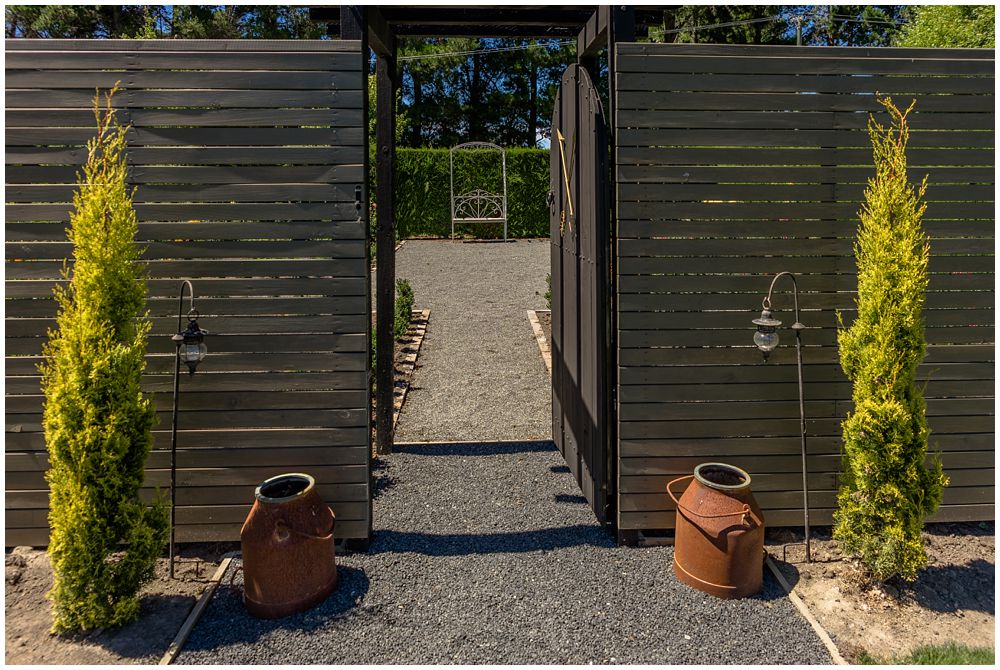 Even though Lacebark Wedding Venue is relatively new on the Wedding Venue scene, securing a booking is already at 12 months to 18 months booking time.
Lacebark Wedding Venue is surely going to be one of if not the best wedding venue in the Christchurch and Canterbury area.
Give Marion a call and book and appointment to view the venue. It could be the exact match to what you have in mind for your wedding.
We can not wait to shoot many more weddings at this spectacular wedding venue.
View Lacebark Wedding Photos Gallery
For more information visit Lacebark.