Melton Estate Wedding Venue – Vineyard
Melton Estate Wedding Venue situated in West Melton 20 minute west of Christchurch city centre. Nestled amongst vineyards, it is an ideal one-stop shop wedding venue.
Never mind the season the beauty, and the elegance of Melton Estate remains the same. Melton Estate owned by Philip and Tracy Cauter and who have been running it for the past 15 years,
is formerly known as Sherwood Estate, Melton Estate has become a wedding venue to be reckoned with, in the Canterbury region.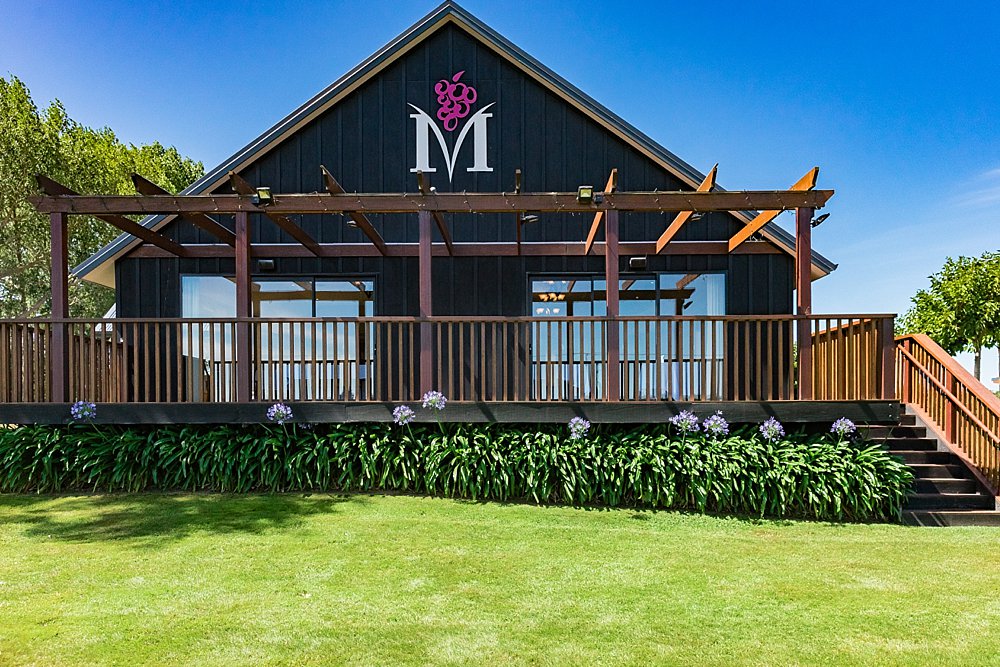 Wedding Venue – Melton Estate
Over the years, to cater for the large weddings at Melton Estate, a lot of improvements have been made. The main function room is capable of hosting up to 120 guests and still leave room for all to comfortably walk in between the table setups.
Next to the main function room is the dance hall, which has ample space for a Band or DJ.
The most recent and possibly the venue's biggest asset when it comes to weddings is the Pavilion.The Pavilion offers sheltered as well as outdoorsy feel all in one. The Pavilion option is one which most wedding venues do not possess.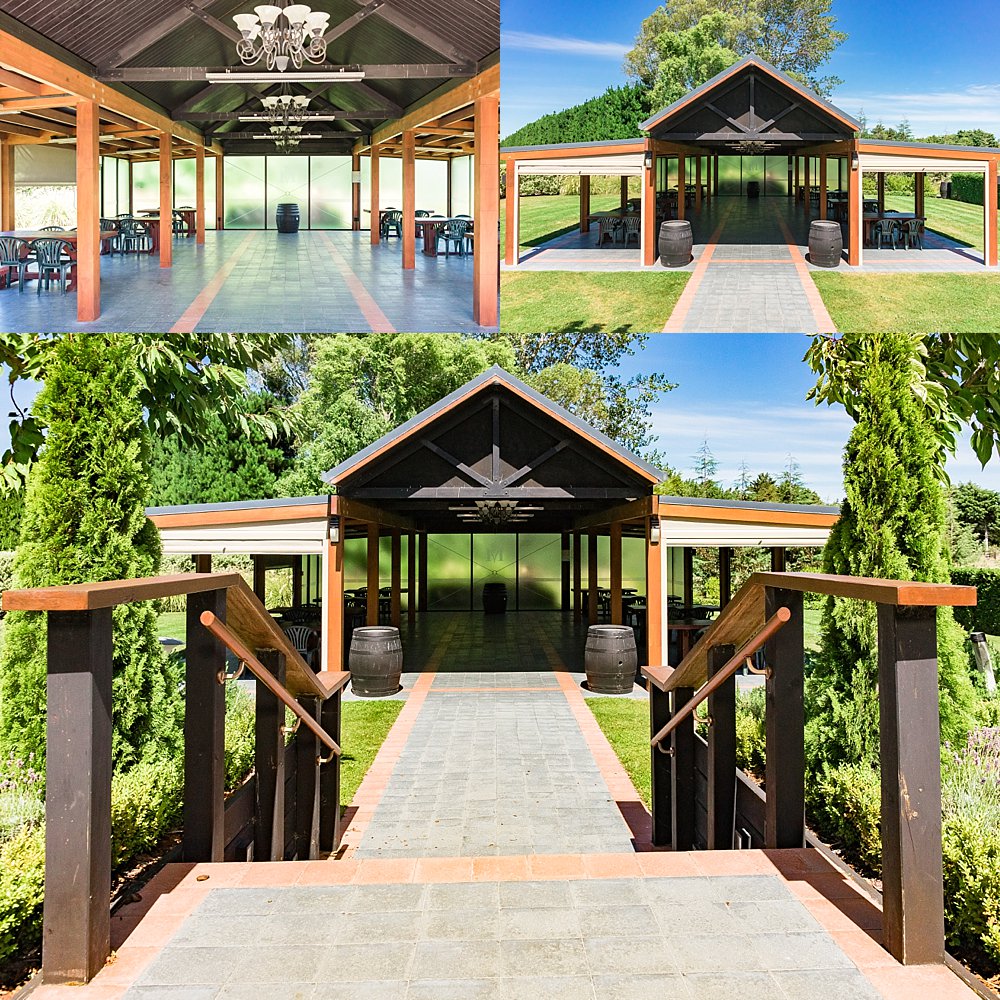 Whether it's raining or be it a blustery windy day, there are see through covers which can be brought down to protect you and your wedding guests from the unpredictable Christchurch/Canterbury weather elements. Becuase the covers are clear, you still get ample natural light into the pavilion, a plus for your wedding photos.
The pavilion is also fitted with heaters to keep you warm and cosy if the weather is less desirable.
So no matter the weather conditions, you are covered. To all the brides to be, with Melton Estate Wedding Venue, there is no need to hope and pray for good weather on your wedding day.
Wines and Food
Melton Estate does lunch Thursdays through to Sundays. Pay them a visit and the lunch can be a good excuse to see the venue and have a taste of their delicious food. Check out their website for details.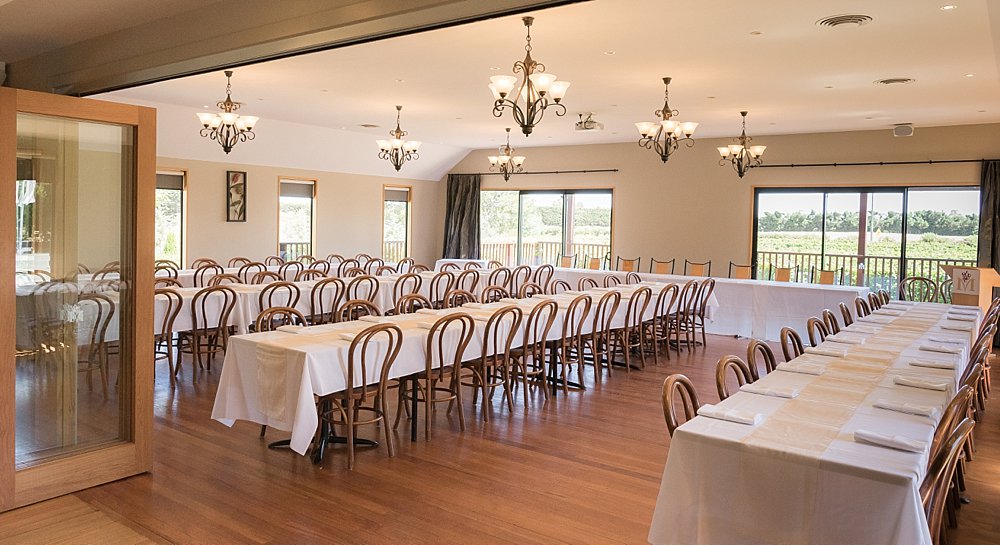 Due to the cool climate. The West Melton area vineyards specialise in aromatic wines like riesling, pinot noirs and pinot Gris.
Melton Estate is well known for its wine the Summer Love. Summer Love a sparkling Riesling is Baby pink in colour, with light floral notes of honeysuckle, lychee, strawberries, red fruits and cherry blossom.
They are the only winery in Canterbury producing this wine or anything similar to it. According to Tracy, it's a great summer drink, and with 6% alcohol, it's the popular and ideal as a wedding wine. Summer Love is of an Italian
They are the only winery in Canterbury producing this wine or anything similar to it. According to Tracy, it's a great summer drink, and with 6% alcohol, it's the popular and ideal for a wedding wine, and brides love it. Summer Love is of an Italian frizzante style. Normally done with Moscato grapes, but being in the cool climate area of Canterbury, Moscato grapes don't grow well, so they use pinot noir which gives it the pinky apricot colour. At 6%, it's in the range of crafted beer so guys can easily drink it too and it will not go straight to the head like normal bubbles.
Melton Estate sells most of their wine online. Selling the wines online is ideal as most of the visitors are travelling through while holidaying and they don't want to lug around wine bottle through their travels. Having the option to buy online and getting the wines shipped is an option like no other.Shipping is New Zealand wide.
Talking to Tracy, she said as she giggled "we got into the wine business because of our love for wine".
On a more serious note. Tracy loves to host, help and organise weddings for the brides that book her venue. She does a fantastic job at too, and I have been a witness to that while shoot a wedding at Melton Estate.
Tracy is so welcoming and always wearing a smile. Furthermore, she is so easy to talk to. Her caring and helpful sides come out just from having a chat with her.
With 15 years worth experience in the industry. Tracy has a wealth of knowledge that she share with brides and grooms to be who make bookings.
Wedding bookings at Melton Estate Wedding Venue
Wedding couples wanting to book the venue for their special day need to book 18 months in advance to be able to secure a date of their choice.
During the wedding peak season months which are November through to March, Saturday is the most popular day and usually the first to fill up.
Melton Estate also hosts winter weddings. Most winter bookings come from people in the dairy industry as this is their least busy period.
Most brides booking Tracy's wedding venue and services are from Austalia, mainly Kiwis coming home to tie the knot. For her brides, Tracy performs the role of wedding planner/ coordinator. She is happy to tee up suggest or recommend makeup artists bands and hair stylists. She is also at hand to help on the wedding to cater to your needs.
When booking Melton Estates for your wedding venue of choice, you don't need to worry about extra charges on add-ons. The hiring cost covers things like staffing, cutlery, tablecloths, linen, setting up, cleaning down, napkins, and rehearsals.
Wedding Decorations
When it comes to decorations, the couple brings their own which they use to personalise their wedding and Tracy, and her team will set them up.
Alternatively, the couple can hire a wedding decorating company like Setting the scene to come and do the decorations for them. For wedding decoration ideas, Pinterest is the go too for most Brides.
Wedding Photo Locations – Melton Estate Venue
One of the big pluses for choosing Melton Estate as your wedding is the variety of wedding photo location they have available to you onsite.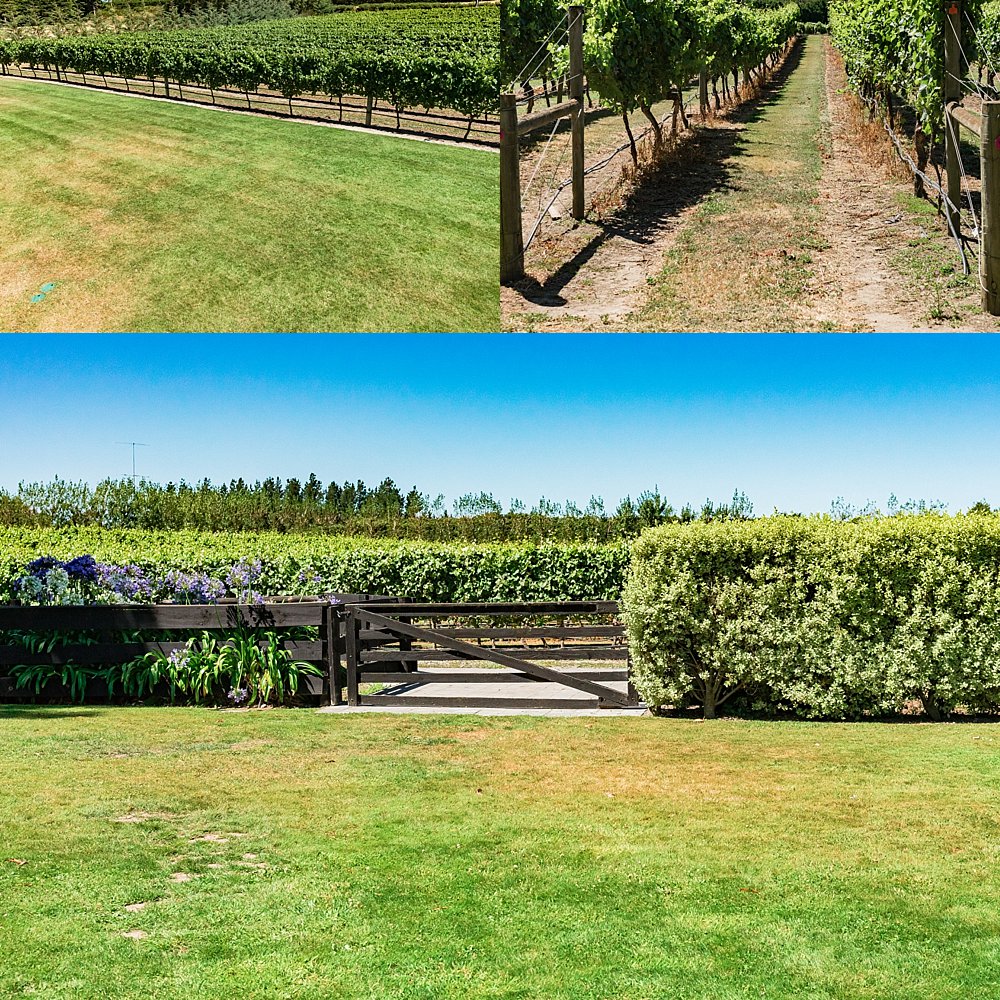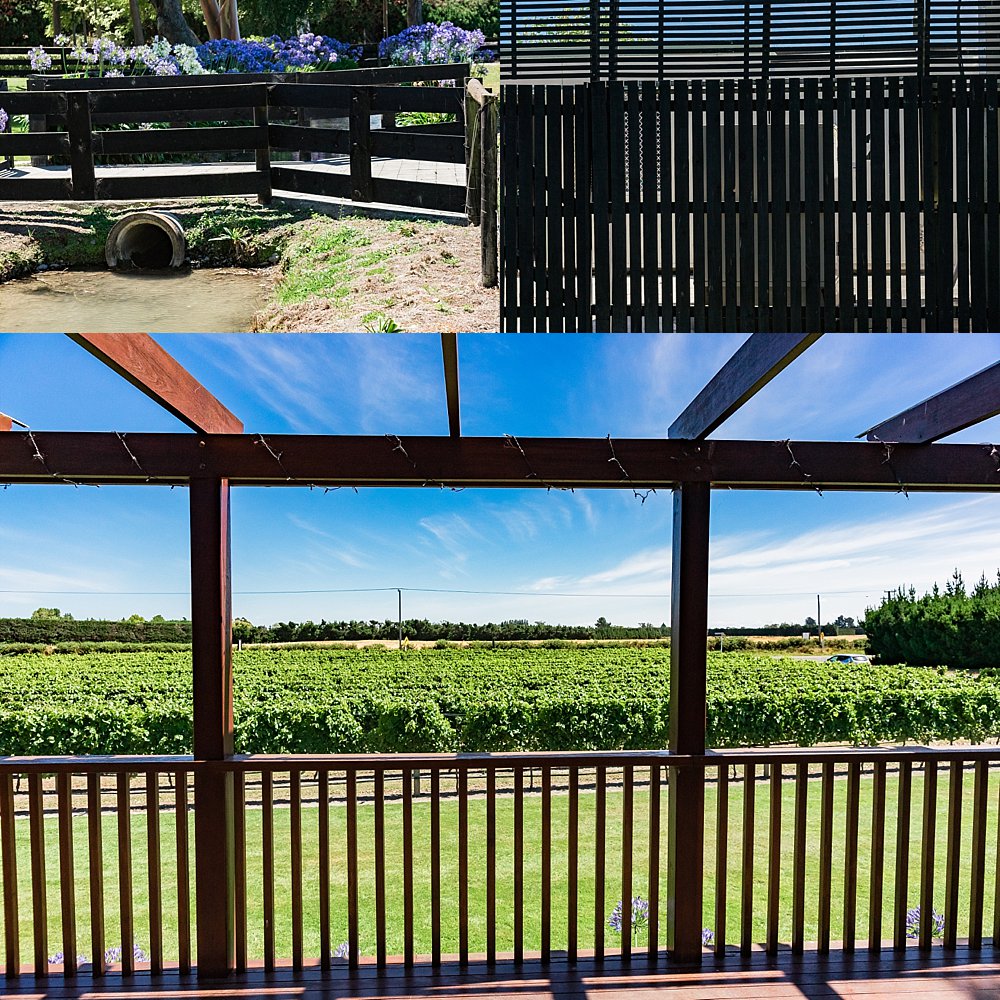 Guests accommodation close to Melton Estate Wedding Venue
Do you have guests coming from out of town? Are you a bride looking for a place close to the venue to get ready?
There are accommodation options close to the venue, and they do range depending on your budget.
Here is a handful of them and Tracy is happy to recommend more.
-Motel Units in Rolleston
-Hope Villa
-Chest Oaks
-Gatehouse Accommodation and Gardens.
After having a bit of a downturn in the wedding industry after the Christchurch Earth Quakes. Wedding numbers seem to be on the up as seen from the number of bookings coming through.
What does the future hold for Melton Estate?
Tracy and Philip would like to continue with Wedding Venue hiring as well as continue diversifying their business in hosting more conferences and even funerals, which are also a celebration of life.
Message from Tracy to Brides and Grooms
Go and see the wedding venue you intend on booking before you book.
If you are not in a position to visit the venue yourself, send someone you trust to have a look on your behalf.
To contact Tracy, head on to the Melton Estate Wedding Venue website and send her a message.
View Melton Estate Wedding photos
Visit Christchurch Wedding Venues page
---