Grandma Kiss – That magical wedding day moment Part One
The Grandma Kiss post marks the start of blog posts titled That magical wedding day moment. In these posts will be shares of magical moments' photographs from weddings we have covered over the years and the stories to go with them.
A wedding day can easily be compared to a day at the carnival. I say this because so much is happening on the day, with busy people everywhere you look.
There is a lot of laughter, drinking, dancing and to some extent games galore.
On a wedding day, you also find heaps of people; just people watching and or having a yarn just as you would at a carnival.
One would need to have at least ten sets of eyes to keep up with the goings-on of the day; you are going to miss a lot of action, you are going to witness some golden moments. Of the golden moments you miss, you may get to hear of them like stories from those who may have been witnesses.
When you get to capture these golden moments on camera, I believe it's classic. The moment becomes frozen in time, and you get to re-live it for a very long time, as the photograph becomes your reminder of the occasion.
As wedding photographers. We get the great opportunity to stand back and watch events unfolding. With the years of experience in wedding photography, comes the ability to anticipate what will happen next. It helps to always have your finger on the camera trigger, ready to capture those out of the blue moments.
The Kiss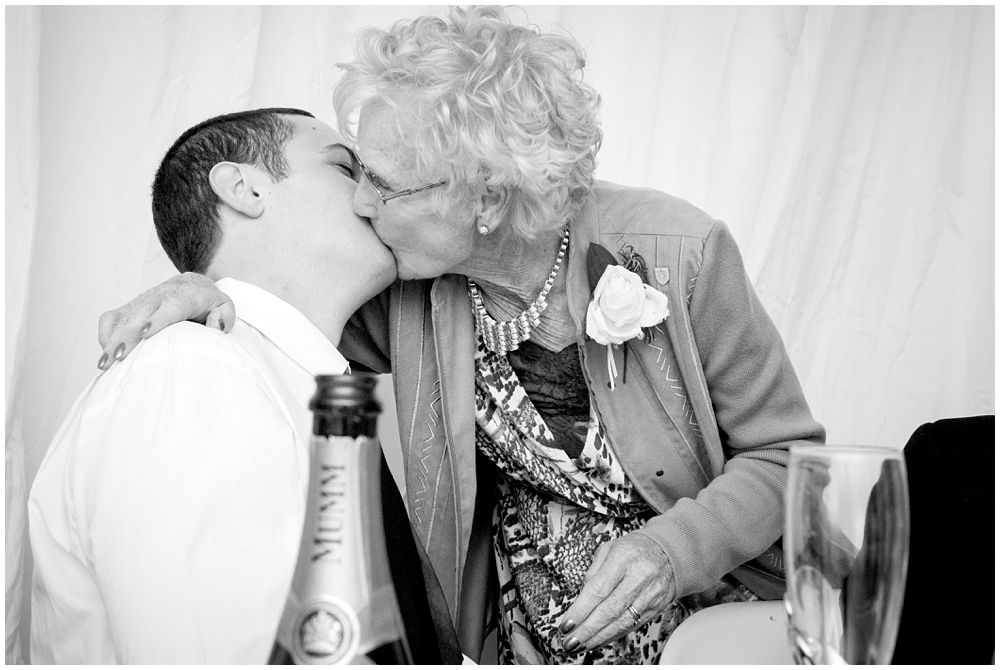 Grandparents can be quite entertaining at weddings or any family function for that matter.
This grandma, in particular, had proved that she could be a handful if given half a chance.
Earlier on in the evening during the reception, she had given me quite a surprise.
I had been getting myself into position to take photographs of the bride and groom cutting the cake. In order not to obstruct the view of the guest. I knelt down in the front in between two table settings.
Just as I was kneeling down, grandma who was seated next to me, turned around. With a big smile, she says " it's you again", and she put her arm around my neck, pulled me towards her and planted a kiss on my forehead.
Just as well the bride and groom took some time to get ready to cut the cake. Otherwise, I would have miss that shot.
So later in the evening. I spotted, grandma walking towards the groom who was at this point was just chilling seated at the head table. I suspected she could have been up to something and I kept watch.
As she got to the groom, she leant forward and planted a good one on the groom's lips. Yep, the groom got a grandma kiss.
It didn't last long, and by the time the guests turned around to see what was happening. Grandma was done.Classic.
I had to tell some of the guests that I had deleted the photograph, as they wanted me to show it to them.
Hope you had a giggle.
Leave comments below.